Get Quality Martial Arts Training in Newtown, No Matter Where You Are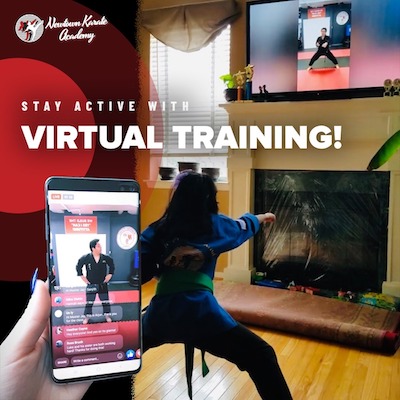 We understand that living a "new normal" lifestyle and staying home with your kids can be difficult! It can seem impossible to keep your child entertained in a healthy way. Our Online Training program means your child can continue to fuel their physical activity, even when you can't make it to the school!
Our Instructors will check in weekly and Zoom video workouts, at-home games and so much more!
Why Choose Online Training?
Just because our doors are temporarily closed, doesn't mean we aren't offering world-class martial arts instruction. Our team at Newtown Karate Academy understands that even through social distancing and stay-at-home orders, you and your child still deserve high-quality training, personalized workouts, and professional guidance.
Our Online Training program gives your whole family the opportunity to take on new activities together, while getting the same accountability and results without having to step through our doors! This program is the perfect opportunity for you to get all the benefits of traditional martial arts training without the location or time restrictions.
Online Training can help your family:
Bond in a new way!
Enjoy physical fitness in the comfort and safety of your own home
Take on new activities together
Stay accountable and on-track week after week
Get Started With Online Training at Newtown Karate Academy!
No matter where life takes you, our Online Training program gives you all the tools you need to thrive. All you have to do is fill out the form on the side of this screen or click the button below, and we will set you up with all the resources you need!
For only $9.95, you'll receive TWO weeks of virtual training classes. Click the button below to sign up!